English players were whistled by Hungarian fans – mostly children – when they knelt before their Nations League opening in Budapest, despite the hosts being forced to play the game behind closed doors due to racist abuse of the stands.
UEFA has imposed a ban on spectators following the previous behavior of Hungarian supporters during Euro 2020 matches held in the country last summer, while FIFA issued a separate penalty after England were racially mistreated during their 4-0 World Cup qualifying victory in September.
However, more than 30,000 – mostly schoolchildren – were allowed into the Puskas Arena on Saturday night for the League of Nations fixture as UEFA rules allow an unlimited number of U14s to attend games behind closed doors as long as they are accompanied by an adult. .
The national anthems of both countries were respected when the players came out on the pitch, but mockery seemed to be heard by the crowd as England knelt before a signal in what was their first visit to the stadium because they were racial. misused last year.
However, UEFA will not punish Hungary for committing the act of kneeling, as it does not violate its rules.
Reporting from within the Puskas Arena, Sky Sports News' Senior reporter Rob Dorsett said: "It was an incredibly loud environment and all eyes were on the crowd as England knelt down and the squeal of thousands of schoolchildren inside the stadium was very, very clear.
"It was a strange noise in the truth because these are all U14s so it was a louder noise than we are used to when we hear the roar. But there was a very clear roar from the vast majority of people inside the stadium.
"It's important not to go against UEFA rules. Don't expect UEFA to continue to punish the Hungarian FA, but what I think it will do is support the feeling expressed by many people within football that the image of a stadium Two-thirds full of viewers for a game that is supposed to have no one as punishment for former racist abuse, is unpleasant and does not send the right message.
Speaking on Friday, Gareth Southgate and Harry Kane discussed a return to the Puskas Arena in Hungary for the first time since the English players were racially abused there last year.

"There's an added concern that these are youngsters. They didn't like the gesture of English players kneeling and they didn't approve of it."
Southgate: I have no idea why people are kneeling
On Friday, England manager Gareth Southgate said England must "continue to do the right thing and set the right example" in taking a stand against racism, ahead of the Three Lions' trip to Budapest.
But after the mouthpiece on Saturday night, the 51-year-old confessed that he could not understand the negative response to his players kneeling at the Puskas Arena.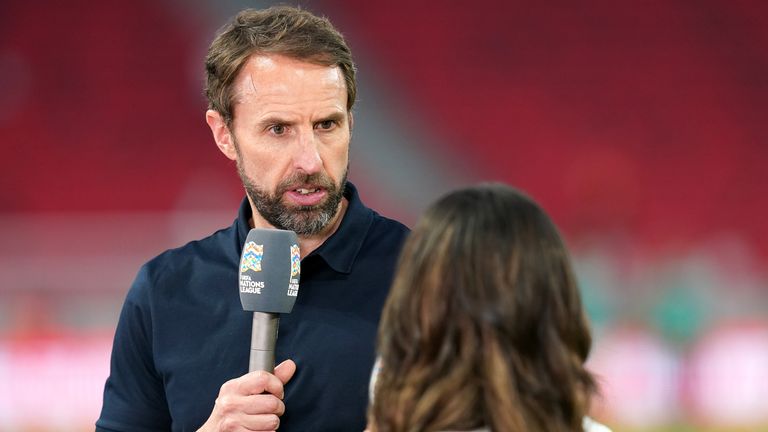 He told Channel 4"The first thing we do is try to educate people around the world. I have no idea why people would choose to whistle that gesture and I think very often young people can't know why they are doing it, so they are influenced by older adults.
"The UEFA decision is for other people to decide. We have made our position as a team. Everyone knows what we believe and what we stand for.
"Tonight is a night where I have to focus on the football. When you lose, you can't talk too much about other areas because I think that would be a lack of responsibility for the outcome."